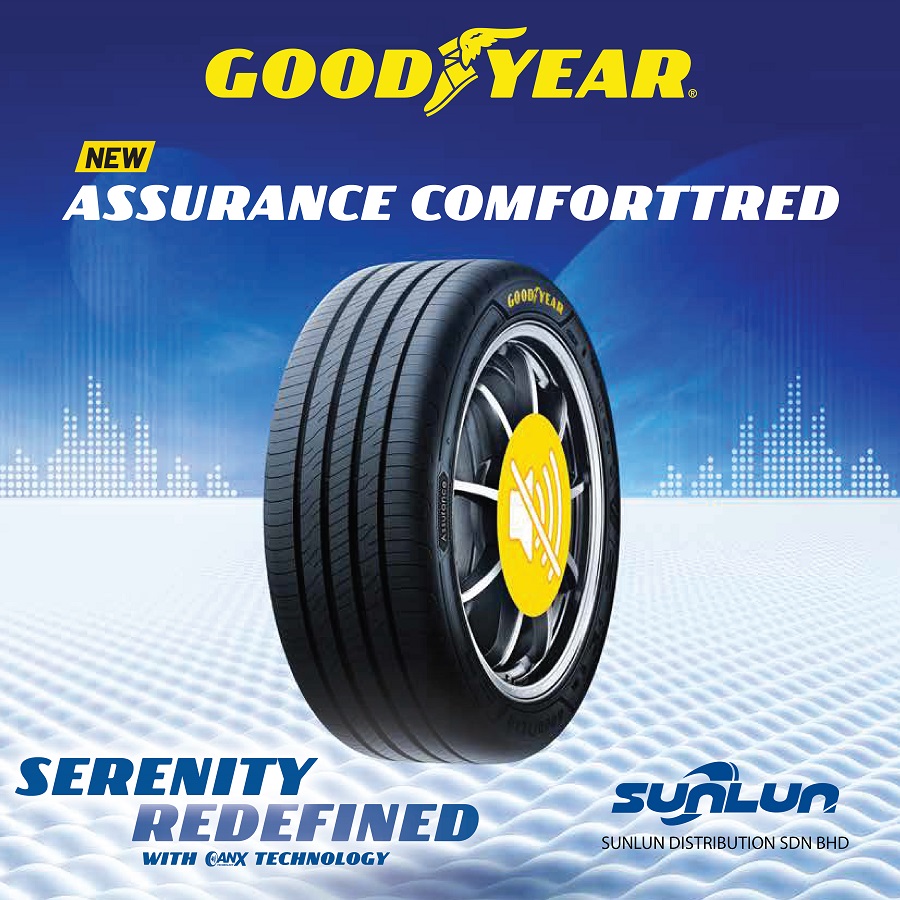 NEW ARRIVAL! Goodyear Assurance ComfortTred Passenger Tyres
The Goodyear Assurance ComfortTred is the new Assurance line of 16" to 18" passenger car radial (PCR) tyres offering ultimate road noise cancellation with shock absorption for premium vehicles such as Toyota Camry, Honda Accord, Lexus ES 250, BMW 3-Series and more.
Centering on quiet comfort, the Assurance ComfortTred distributed by Sunlun Distribution combines Goodyear's Advanced Noise Cancelling (ANX) Technology and patented tread design to enable motorists in Sarawak, East Malaysia to recharge with a luxuriously smooth ride.
Noise & Vibration Protection
The Goodyear Assurance ComfortTred combines ANX Technology's advanced layer of noise-insulating compound with closed shoulder design, narrower lateral grooves and a significant number of smaller tread blocks to suppress rolling noise as well as impact vibrations.         
Braking & Handling Performance
The Goodyear Assurance ComfortTred's patented tread design features new compound with high-silica/resin formula as well as extra number of edges for improved water drainage and shorter braking, while larger centre rib design improves cornering stability by up to 24%.
Available Sizes
215/55 R16 GOODYEAR ASSURANCE COMFORTTRED
215/60 R16 GOODYEAR ASSURANCE COMFORTTRED FP
215/50 R17 GOODYEAR ASSURANCE COMFORTTRED XL FP
215/55 R17 GOODYEAR ASSURANCE COMFORTTRED
225/45 R17 GOODYEAR ASSURANCE COMFORTTRED XL FP
225/50 R17 GOODYEAR ASSURANCE COMFORTTRED XL FP
225/45 R18 GOODYEAR ASSURANCE COMFORTTRED XL FP
235/45 R18 GOODYEAR ASSURANCE COMFORTTRED XL FP
We Keep Your Wheels Turning
Goodyear Assurance ComfortTred is available from Sunlun Distribution, a Malaysia tyre distributor based in Sibu, Sarawak, East Malaysia. We distribute and supply Goodyear tyres throughout central Sarawak including Sibu, Bintulu, Mukah, Sarikei and Kapit, southern Sarawak including Kuching, Sri Aman, Serian, Kota Samarahan, Saratok, Betong and Siburan and northern Sarawak including Miri, Lutong and Niah:
Goodyear passenger car radial (PCR) tyres
Goodyear SUV/4x4 tyres
Goodyear light truck (LT) /ultra-light truck (ULT) tyres
Goodyear commercial van/light truck tyres
Goodyear commercial truck bias tyres
Goodyear farm and grader tyres
Browse our Products or Contact us for more details on Goodyear products.
About Goodyear
Goodyear was founded in Akron, USA in 1898 and is today one of the world's largest tyre companies with annual sales of over USD15 billion. Through global manufacturing facilities in 23 countries and innovation centres in Ohio and Luxembourg, Goodyear develops advanced technology and performance standards to produce a wide range of tyres for consumers, commercial trucks, aviation, off-the-road and motorsport racing.
Links
https://www.goodyear.com.my/tyres/goodyear-assurance-comforttred
Size Compatibility
215/55 R16 GOODYEAR ASSURANCE COMFORTTRED
Honda Civic
215/60 R16 GOODYEAR ASSURANCE COMFORTTRED FP
Honda Accord / HR-V
Nissan Teana
Toyota Camry
Volkswagen Beetle
215/50 R17 GOODYEAR ASSURANCE COMFORTTRED XL FP
Ford Focus 5DR 1.5L EcoBoost Trend / Sport+
Honda Civic 1.5 TC
Nissan Leaf
Opel Astra
Peugeot 408
Proton Inspira
215/55 R17 GOODYEAR ASSURANCE COMFORTTRED
Audi Q2 Sport 1.4
Honda Odyssey / HR-V
Hyundai Kona 2.0
Kia Optima
Mahindra XUV300 W8
Toyota Camry / Innova 2.0X AT
225/45 R17 GOODYEAR ASSURANCE COMFORTTRED XL FP
BMW 1-Series / 3-Series
Hyundai Elantra Executive / IONIQ Hybrid
Lotus Elise Sport 220 / Elise Cup 250
Mercedes Benz C-Class / SLK
Toyota Corolla 1.8G / Altis
Volkswagen Golf R-Line / Jetta
225/50 R17 GOODYEAR ASSURANCE COMFORTTRED XL FP
BMW 3-Series / 5-Series
Honda Accord
Mercedes Benz C-Class
Proton Perdana  
225/45 R18 GOODYEAR ASSURANCE COMFORTTRED XL FP
Alfa Romeo Giulia
BMW 3-Series / X1
Fiat 500X
Kia Optima
Mercedes Benz C-Class
Subaru Levorg 1.6GT-S
235/45 R18 GOODYEAR ASSURANCE COMFORTTRED XL FP
Honda Accord 1.5 TC-P
Hyundai Sonata 2.5 Premium / Kona
Lexus ES 250 Premium/Luxury
Porsche 718/982 Boxster-Front / Cayman
Toyota All-New Camry 2.5V
Volkswagen Passat Elegance 2.0
* Always refer to your vehicle manual for specifications in your region