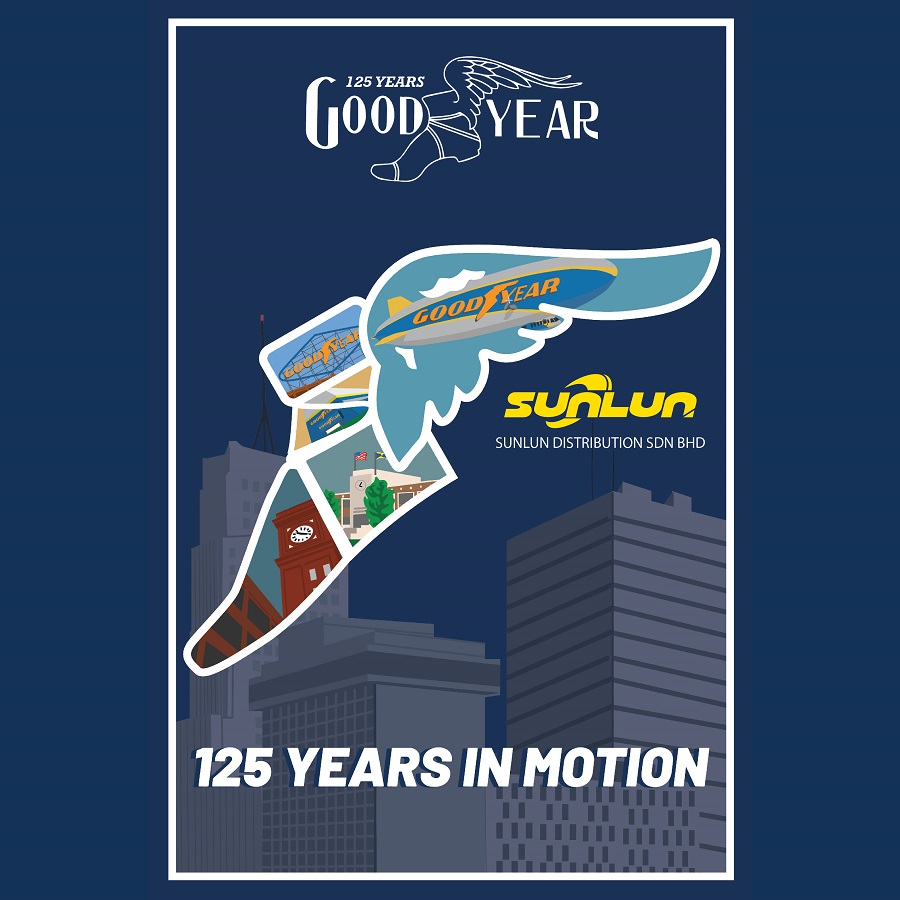 Goodyear Tyres - Putting Innovation in Motion for 125 Years
As Goodyear celebrates its 125th anniversary in 2023, it stands at a crucial juncture in history where deep transformative changes in the automotive industry are challenging notions of tyre design and sparking new ways of thinking towards enabling mobility of tomorrow.
With a legacy of innovation spanning more than a century, Goodyear is poised more than ever to lead technological advancements that embrace the exciting opportunities brought about by the rapid growth in autonomous, connected new-energy vehicles around the world. 
Pushing The Boundary
The drive to deliver better mobility solutions for evolving consumer needs propels Goodyear's tyre innovations including intelligent tyres, fuel-efficient tyres, electric/hybrid vehicle tyres, airless tyres and even the potential of a sustainable non-petroleum tyre.   
Thriving On Diversity
Recognized by Forbes as among the world's best employers, Goodyear's abiding commitment to workforce progress is reflected in the diverse pool of visionary leaders, innovative thinkers and cultural pioneers who have all contributed to the tyre brand's success.
Enabling Future Mobility
As it has for 125 years, exciting possibilities in future forms of mobility will inspire Goodyear's blueprint to redefine the tyres of tomorrow through imaginative emerging technologies and continue to keep Goodyear's innovation in motion well into the next 125 years.
We Keep Your Wheels Turning
Goodyear tyres are available from Sunlun Distribution, a Malaysia tyre distributor based in Sibu, Sarawak, East Malaysia. We distribute and supply Goodyear tyres throughout central Sarawak including Sibu, Bintulu, Mukah, Sarikei and Kapit, southern Sarawak including Kuching, Sri Aman, Serian, Kota Samarahan, Saratok, Betong and Siburan and northern Sarawak including Miri, Lutong and Niah:
Goodyear passenger car radial (PCR) tyres
Goodyear SUV/4x4 tyres
Goodyear light truck (LT) /ultra-light truck (ULT) tyres
Goodyear commercial van/light truck tyres
Goodyear commercial truck bias tyres
Goodyear farm and grader tyres
Browse our Products or Contact us for more details on Goodyear products.
About Goodyear
Goodyear was founded in Akron, USA in 1898 and is today one of the world's largest tyre companies with annual sales of over USD15 billion. Through global manufacturing facilities in 23 countries and innovation centres in Ohio and Luxembourg, Goodyear develops advanced technology and performance standards to produce a wide range of tyres for consumers, commercial trucks, aviation, off-the-road and motorsport racing.
Links
https://corporate.goodyear.com/us/en/about/125th-anniversary.html