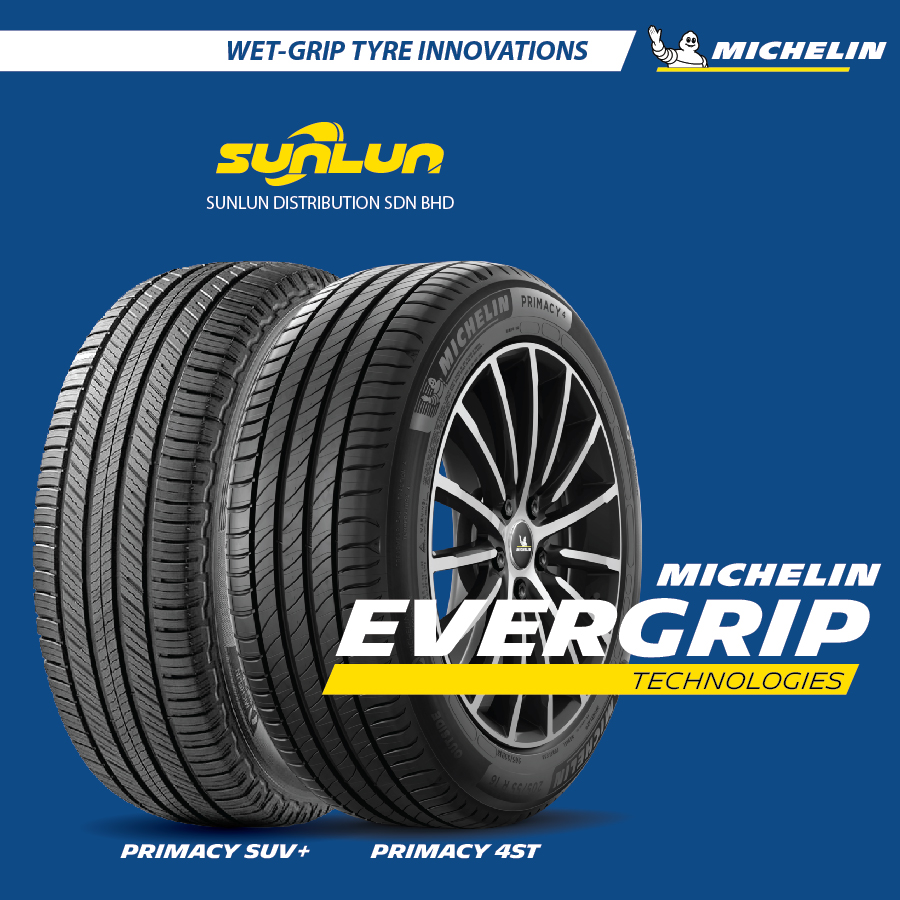 EVERGRIP Technology Improves Michelin Primacy's Wet Grip
Introducing EVERGRIP Technology, Michelin's award-winning tyre breakthrough affirmed by the renowned "Tire Technology of the Year" accolade – providing greater levels of tyre safety with exceptional wet grip both when new and even when worn down over time.     
The Michelin EVERGRIP Technology equips the Michelin Primacy 4 ST and Michelin Primacy SUV+ range of tyres with innovative high-traction compound and optimized sculpture design to achieve long-lasting reliability on the road especially during wet weather driving.
MICHELIN PRIMACY 4 ST
Michelin's EVERGRIP Technologies provide the Primacy 4 ST with flexible ground contact for enhanced traction as well as more space in the tread for efficient water evacuation to achieve  shorter wet braking – on average – by 2.3m when new and 5.2m when worn.
Available in 15" to 20" passenger car radial (PCR) tyre sizes for Proton Persona, Honda City, Nissan Almera Turbo VL, Toyota Camry, Mazda3, Proton Exora and many more.  
MICHELIN PRIMACY SUV+
Michelin's EVERGRIP Technologies equip the Primacy SUV+ with new tread compound that improves wet traction as well as U-shaped grooves/full-depth sipes that effectively drain water away for quicker wet braking by 3.3m when new and 4.2m when worn.
Available in 16" to 20" sports utility vehicle (SUV) tyre sizes for Toyota Rush, Proton X70, Mitsubishi ASX, Honda CR-V, Kia Sorento, Mazda CX-30, Audi Q5 and many more. 
We Keep Your Wheels Turning
Michelin Primacy 4 ST and Michelin Primacy SUV+ are available from Sunlun Distribution, a Malaysia tyre distributor based in Sibu, Sarawak, East Malaysia. We distribute and supply Michelin tyres throughout central Sarawak including Sibu, Bintulu, Mukah, Sarikei and Kapit, southern Sarawak including Kuching, Sri Aman, Serian, Kota Samarahan, Saratok, Betong and Siburan and northern Sarawak including Miri, Lutong and Niah:
Michelin passenger car radial (PCR) tyres
Michelin SUV/4x4/4WD tyres
Michelin commercial light truck (LT) tyres
Michelin truck and bus (TB) tyres
Browse our Products or Contact us for more details on Michelin products.
About Michelin
Michelin is a global tyre manufacturer founded in 1889 that consistently ranks as one of the world's most valuable tyre brand with annual revenue exceeding 20 billion euros. From tyres and high-tech materials to mobility solutions, Michelin develops innovative products through 9 worldwide R&D centres with 127 production facilities in 26 countries and commercial presence in 170 countries.
Links
https://www.michelin.com.my/auto/tyres/michelin-primacy-4-st
https://www.michelin.com.my/auto/tyres/michelin-primacy-suv-plus
http://bwautoworld.businessworld.in/article/Michelin-Introduces-The-New-...
https://paultan.org/2022/05/24/new-michelin-primacy-suv-tyre-launched-in...