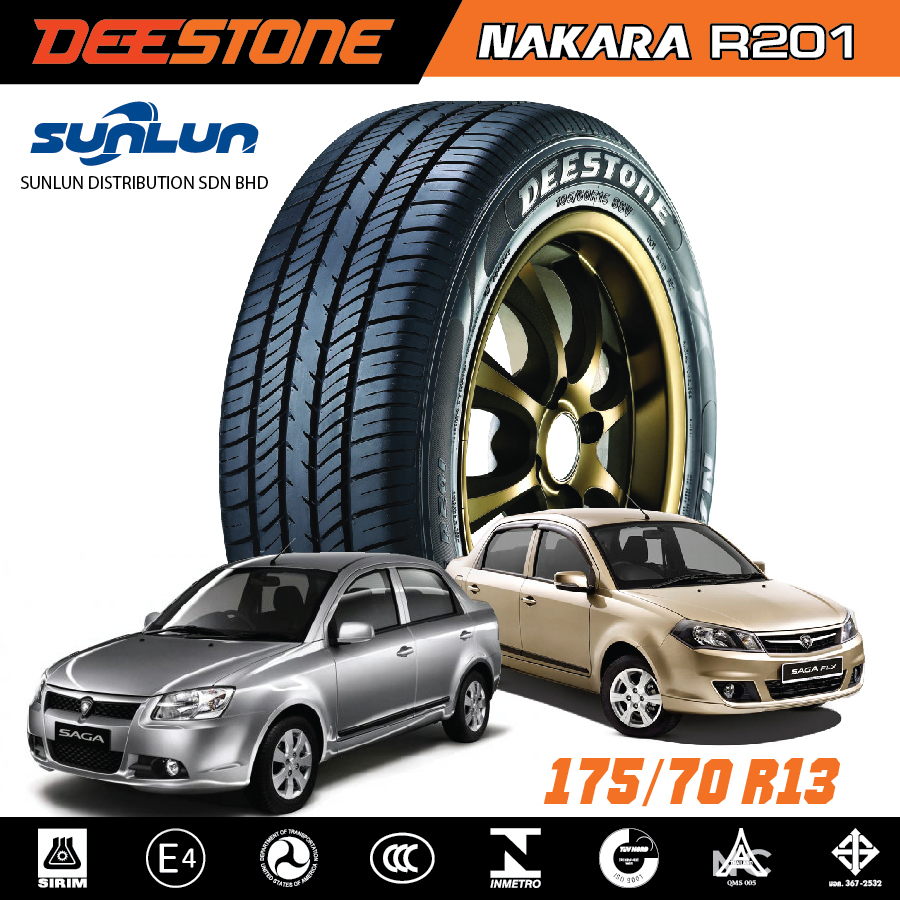 Deestone's Budget-Friendly 175/70 R13 Tyre for Proton Saga
The 1st Malaysian car, Proton Saga holds a significant place in Malaysia's automotive history with an iconic nameplate that dates back to 1985 – marking 38 years of brand recognition that drove more than 1.9 million consumers towards Saga's affordability and practicality.    
As many households still depend on legacy Proton Sagas for transportation, the Deestone Nakara R201 offers the budget-friendly choice of 175/70 R13 passenger car radial (PCR) tyre for popular 2nd-gen models such as Saga FLX Standard and Saga BLM N-Line/B-Line.
Safer Braking
The Deestone Nakara R201 provides improved anti-hydroplaning capability with 3 main tread grooves and extra shoulder grooves for effective water evacuation on wet roads, while its 2 free tread block design bolsters safety with excellent braking performance. 
Handling Stability
The Deestone Nakara R201 promotes precise handling response with a wide, notched centre rib design that maximizes road grip as well as driving stability, and achieves good cornering performance with curved shoulder pattern that firmly grips the road surface.
Comfortable Driving
The Deestone Nakara R201 enhances driving comfort by employing a jointless spiral overlay design coupled with variable-pitched tread pattern featuring noise-cancellation technology that clears away soundwaves through the footprint to reduce noise and vibrations.      
We Keep Your Wheels Turning
Deestone Nakara R201 is available from Sunlun Distribution, a Malaysia tyre distributor based in Sibu, Sarawak, East Malaysia. We distribute and supply Deestone tyres throughout central Sarawak including Sibu, Bintulu, Mukah, Sarikei and Kapit, southern Sarawak including Kuching, Sri Aman, Serian, Kota Samarahan, Saratok, Betong and Siburan and northern Sarawak including Miri, Lutong and Niah:
Deestone passenger car radial (PCR) tyres
Deestone ultra-high performance (UHP) tyres
Deestone SUV/4x4 tyres
Deestone commercial van/ultra-light truck (ULT) tyres
Deestone light truck (LT) tyres
Deestone truck & bus radial (TBR) tyres
Deestone farm & agricultural implement off-the-road (OTR) tyres
Deestone forklift/tractor/industrial off-the-road (OTR) tyres
Deestone construction/earthmoving off-the-road (OTR) tyres
Deestone ATV, golf cart/buggy, go cart & wheel-barrow specialty off-the-road (OTR) tyres
Browse our Products or Contact us for more details on Deestone products.
About Deestone
Deestone was founded in Thailand in 1977 and is today, the country's largest Thai-owned tyre production facility with international distribution in more than 120 countries worldwide. Deestone manufactures a wide segment of quality tyres to meet market-specific requirements with high production standards and global certifications including ISO, DOT, E-mark, TUV NORD, SIRIM, MS and more.
Links
https://www.deestone.com/Tyre-Search/Radial/RADIAL-PCR-UHP/R201.aspx#.Y_...