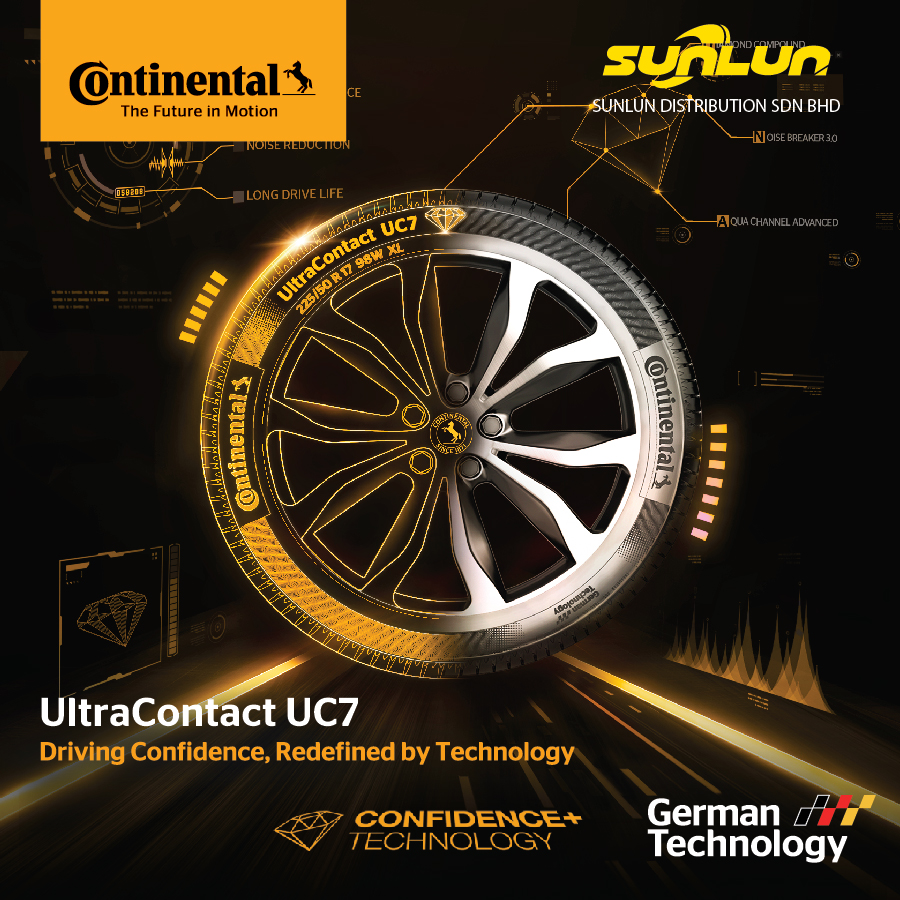 Continental UltraContact UC7 Passenger Car Radial Tyres
The Continental UltraContact UC7 is the newest UltraContact passenger car radial (PCR) tyre from Sunlun Distribution which infuses Continental's Confidence+ Technology with Diamond D.N.A comprised of Diamond Compound, Noise Breaker 3.0 and Aqua Channel Advanced.
Offered in 15" to 18" sizes, the UltraContact UC7's unique compound and construction design delivers excellent safety, noise comfort and longevity to provide motorists in Sarawak with the best all-round tyre for Honda Civic, Mazda 6, Subaru XV, Toyota Alphard and many more.
Longer Mileage
The Continental UltraContact UC7 incorporates Diamond Compound with optimized polymer network comprising unique silica/resin and whisper touch formulation to achieve balance between noise comfort, grip and wear resistance for a longer drive life. 
Noise Comfort 
The Continental UltraContact UC7 combines Noise Breaker 3.0 with Flow X-celerator design which help to break up soundwaves travelling through the tread grooves and thus prevent noisy vibration frequencies from being transmitted into the cabin of the car.   
Wet Braking
The Continental UltraContact UC7 employs Aqua Channel Advanced surface sipes which help to speed up water evacuation from the tread block into the longitudinal groove and improve braking performance with outstanding grip particularly on wet slippery roads.     
Popular Sizes
185/55 R16 CONTINENTAL ULTRACONTACT UC7
195/50 R16 CONTINENTAL ULTRACONTACT UC7
215/55 R16 CONTINENTAL ULTRACONTACT UC7
215/55 R17 CONTINENTAL ULTRACONTACT UC7
225/55 R17XL CONTINENTAL ULTRACONTACT UC7
225/45 R18XL CONTINENTAL ULTRACONTACT UC7
235/50 R18XL CONTINENTAL ULTRACONTACT UC7
We Keep Your Wheels Turning
Continental UltraContact UC7 is available from Sunlun Distribution, a Malaysia tyre distributor based in Sibu, Sarawak, East Malaysia. We distribute and supply Continental tyres throughout central Sarawak including Sibu, Bintulu, Mukah, Sarikei and Kapit, southern Sarawak including Kuching, Sri Aman, Serian, Kota Samarahan, Saratok, Betong and Siburan and northern Sarawak including Miri, Lutong and Niah:
Continental passenger car radial (PCR) tyres
Continental SUV/4x4 tyres
Continental van light truck tyres
Browse our Products or Contact us for more details on Continental products.
About Continental
Continental is one of the world's leading tyre manufacturer and original equipment (OE) supplier that produces a wide range of high-quality mobility products from high-performance tyres to innovative light trucks solutions. Founded in Hanover, Germany in 1871, Continental develops industry-recognized pioneering technologies for safe, efficient, intelligent and affordable applications with a current global team of over 240,000 employees in 61 countries.
Links
https://www.continental-tyres.com.my/car/tires/ultracontactuc7
Size Compatibility
195/55 R15 CONTINENTAL ULTRACONTACT UC7
Honda City
Proton Waja / Gen2 / Satria Neo / Persona
Perodua Alza / Myvi
Volkswagen Polo
185/55 R16 CONTINENTAL ULTRACONTACT UC7
Honda City / Jazz
Toyota Yaris
195/50 R16 CONTINENTAL ULTRACONTACT UC7
Ford Fiesta
Lotus Elise
Toyota Sienta / Vios / Yaris
195/55 R16 CONTINENTAL ULTRACONTACT UC7
BMW Mini
Honda CR-Z
Hyundai i20
Peugeot 208
205/50 R16 CONTINENTAL ULTRACONTACT UC7
Nissan Almera Impul
205/60 R16 XL CONTINENTAL ULTRACONTACT UC7
Ford Focus / Ecosport
Great Wall Haval H1
Honda Accord
Mazda Mazda3
Proton Inspira
Suzuki SX4
205/65 R16 CONTINENTAL ULTRACONTACT UC7
Toyota Innova 2.0G/E
Toyota Innova/Estima (2010 & Below)
215/55 R16 CONTINENTAL ULTRACONTACT UC7
Honda Civic
215/60 R16 CONTINENTAL ULTRACONTACT UC7
Honda Accord
Nissan Teana
Toyota Camry
Volkswagen Beetle
205/50 R17 XL CONTINENTAL ULTRACONTACT UC7
BMW 1-Series
Nissan Sylphy
215/45 R17 XL CONTINENTAL ULTRACONTACT UC7
Honda Civic
Hyundai Elantra
Kia Cerato / Forte
Naza Cerato
Lotus Exige (Sport/Cup)
Proton Preve
Subaru BRZ
Toyota Corolla / CT
215/50 R17 CONTINENTAL ULTRACONTACT UC7
Ford Focus 5DR 1.5L EcoBoost Trend / Sport+
Honda Civic 1.5 TC
Nissan Leaf
Opel Astra
Peugeot 408
215/55 R17 CONTINENTAL ULTRACONTACT UC7
Honda Odyssey
Kia Optima
225/45 R17 XL CONTINENTAL ULTRACONTACT UC7
BMW 1-Series
Hyundai Elantra Executive / IONIQ Hybrid
Lotus Elise Sport 220 / Elise Cup 250
Mercedes Benz C-Class / SLK
Toyota Corolla 1.8G
Volkswagen Golf R-Line / Jetta
225/50 R17 XL CONTINENTAL ULTRACONTACT UC7
Honda Accord
Proton Perdana  
225/55 R17 XL CONTINENTAL ULTRACONTACT UC7
Mazda6
Subaru XV
225/45 R18 XL CONTINENTAL ULTRACONTACT UC7
Alfa Romeo Giulia
BMW 3-Series
Subaru Levorg 1.6GT-S
235/50 R18 XL CONTINENTAL ULTRACONTACT UC7
Toyota Alphard 3.5L / Vellfire 2.5L
245/50 R18 CONTINENTAL ULTRACONTACT UC7
Mercedes Benz S 400 d / S 450 / S 500 / S 560
OTHER SIZES
225/55 R16 CONTINENTAL ULTRACONTACT UC7
225/60 R16 CONTINENTAL ULTRACONTACT UC7
235/60 R16 CONTINENTAL ULTRACONTACT UC7
* Always refer to your vehicle manual for specifications in your region