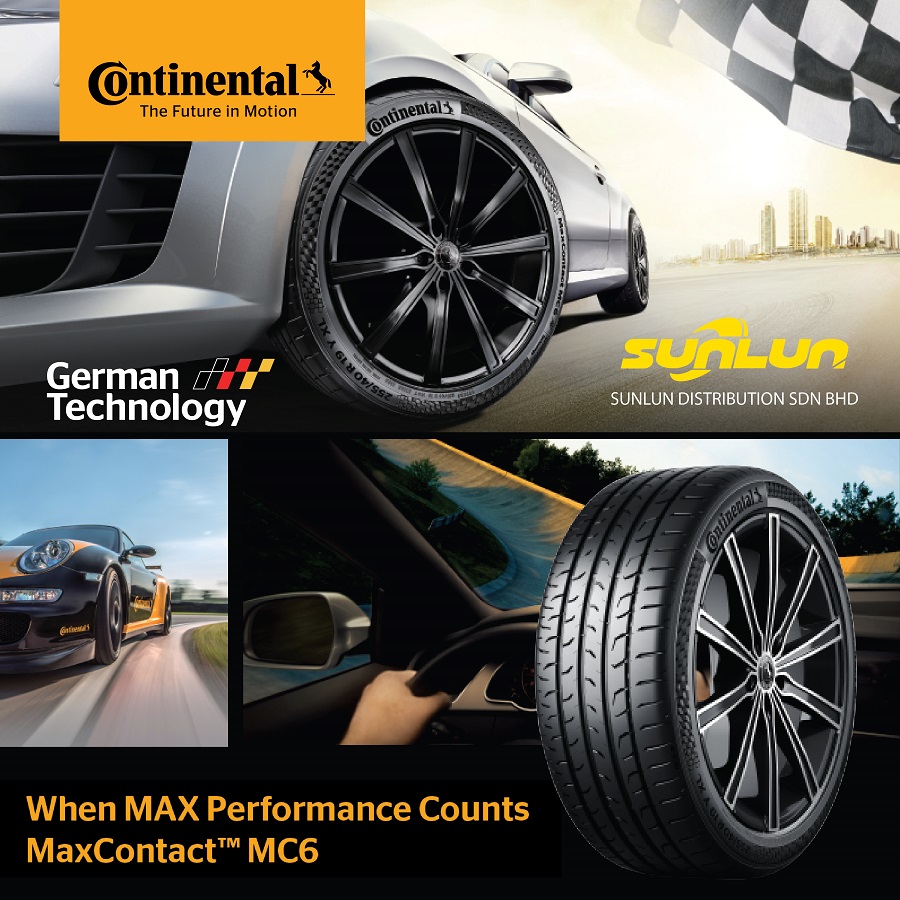 Continental MaxContact MC6 Passenger Car Tyres
Experience total driving confidence with Continental MaxContact MC6, the high-performance passenger car radial (PCR) tyre that delivers sporty handling and exceptional safety for large sedans including Honda Accord, Toyota Camry, Lexus ES 250 and BMW 5-Series.
From performance enthusiasts to everyday commuters, the MaxContact MC6 range of 16" to 21" tyres from Sunlun Distribution blend together Continental's advanced technologies to ensure motorists in Sarawak, East Malaysia stay in control whatever the weather.    
Superior Handling
The Continental MaxContact MC6's multifunctional tread is engineered to overcome all four directional forces on the tyre tread for enhanced handling response and cornering stability:
Multiple stabilizer bars between outside shoulder blocks and longitudinal rib
Asymmetric rib geometry to prevent slanting during sharp turning
Longitudinal chamfered edges to resist rolling-in in the lateral direction
Chevron grip elements for even pressure distribution on the inside tyre
Effective Braking 
The Continental MaxContact MC6 is designed to deliver maximum grip under all conditions by providing all levels of traction to meet the extreme high-grip requirements of the driver:    
Adaptive grip compound formulation with special adhesive polymers 
Chevron grip elements to allow even contact for better wet braking
Stable rib structure to prevent block distortion for better dry braking
Improved Comfort
The Continental MaxContact MC6 is constructed to achieve a comfortable ride by ensuring maximum control and stable steering whether at low speeds or sporty high-speed driving:  
Xtreme-Force ply material reduces flexing at both low and high speeds
Noise Breaker 2.0 dampens soundwaves flowing through the grooves
Popular Sizes
205/40 R17 84W CONTINENTAL MAXCONTACT MC6
205/45 R17 88W CONTINENTAL MAXCONTACT MC6
215/45 R17 91W CONTINENTAL MAXCONTACT MC6
225/50 R17 98W CONTINENTAL MAXCONTACT MC6
235/45 R18 98Y CONTINENTAL MAXCONTACT MC6
235/50 R18 101W CONTINENTAL MAXCONTACT MC6
235/55 R18 104Y CONTINENTAL MAXCONTACT MC6
245/40 R19 98Y CONTINENTAL MAXCONTACT MC6
We Keep Your Wheels Turning
Continental MaxContact MC6 is available from Sunlun Distribution, a Malaysia tyre distributor based in Sibu, Sarawak, East Malaysia. We distribute and supply Continental tyres throughout central Sarawak including Sibu, Bintulu, Mukah, Sarikei and Kapit, southern Sarawak including Kuching, Sri Aman, Serian, Kota Samarahan, Saratok, Betong and Siburan and northern Sarawak including Miri, Lutong and Niah:
Continental passenger car radial (PCR) tyres
Continental SUV/4x4 tyres
Continental van light truck tyres
Browse our Products or Contact us for more details on Continental products.
About Continental
Continental is one of the world's leading tyre manufacturer and original equipment (OE) supplier that produces a wide range of high-quality mobility products from high-performance tyres to innovative light trucks solutions. Founded in Hanover, Germany in 1871, Continental develops industry-recognized pioneering technologies for safe, efficient, intelligent and affordable applications with a current global team of over 240,000 employees in 61 countries.
Links
https://www.continental-tires.com/my/en/b2c/car/tyres/maxcontact-mc6.html
Size Compatibility
205/40 R17 84W CONTINENTAL MAXCONTACT MC6
Audi A2
MazdaSpeed MX-5 Miata
Mercedes-Benz A-Class
205/45 R17 88W CONTINENTAL MAXCONTACT MC6
Kia Rio
Mazda MX-5
Nissan Almera Impul
Peugeot 208
Toyota Vios GR-S 1.5
215/45 R17 91W CONTINENTAL MAXCONTACT MC6
Honda Civic
Hyundai Elantra
Kia Cerato / Forte
Naza Cerato
Lotus Exige (Sport/Cup)
Proton Preve
Subaru BRZ
Toyota Corolla / CT
225/50 R17 98W CONTINENTAL MAXCONTACT MC6
BMW 3-Series / 5-Series
Honda Accord
Mercedes Benz C-Class
Proton Perdana  
235/45 R18 98Y CONTINENTAL MAXCONTACT MC6
Honda Accord 1.5 TC-P
Hyundai Sonata 2.5 Premium / Kona
Lexus ES 250 Premium/Luxury
Porsche 718/982 Boxster-Front / Cayman
Toyota All-New Camry 2.5V
Volkswagen Passat Elegance 2.0
235/50 R18 101W CONTINENTAL MAXCONTACT MC6
Toyota Alphard 3.5L / Vellfire 2.5L
235/55 R18 104Y CONTINENTAL MAXCONTACT MC6
Audi Q3 advanced 1.4
Lexus RX330
Toyota Harrier 2.0T
Volkswagen Tiguan 1.4
245/40 R19 98Y CONTINENTAL MAXCONTACT MC6
BMW 4-Series / 5-Series
Jaguar XF
Mercedes-Benz CLS / E-Class
Volkswagen Arteon R-Line 2.0
* Always refer to your vehicle manual for specifications in your region