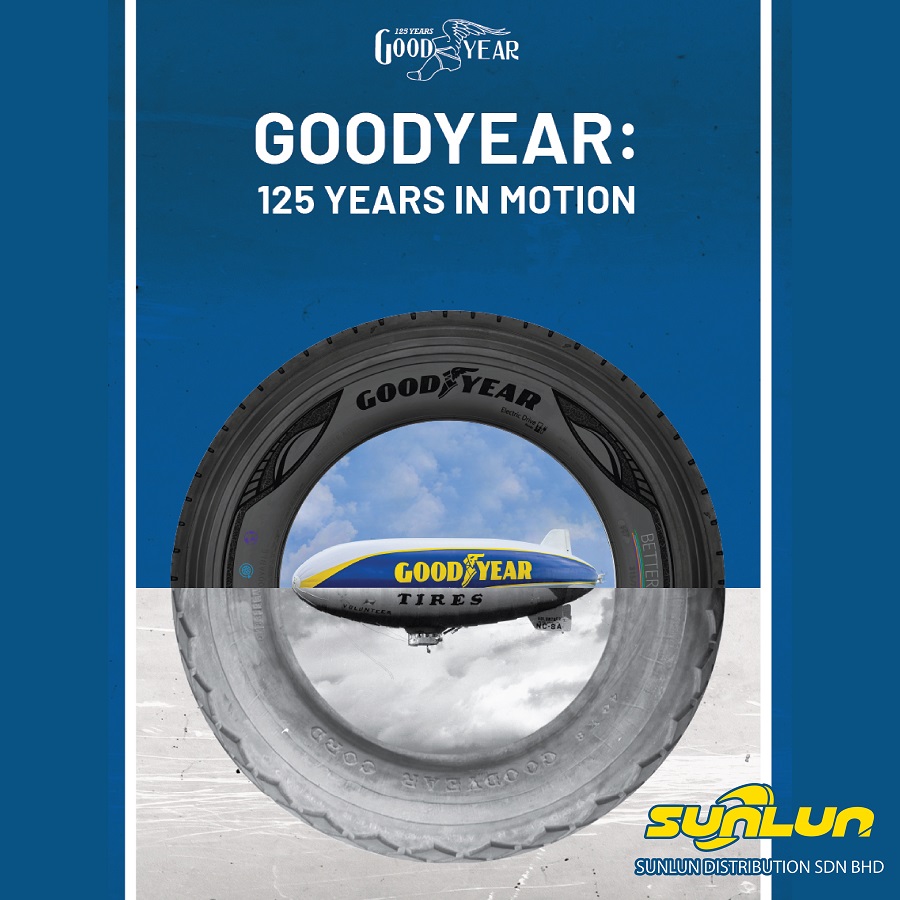 Celebrating 125 Years of Goodyear Tyres!
This 29 August 2023, Goodyear will be marking an incredible milestone as the pioneering tyre company celebrates its 125th anniversary at the forefront of tyre innovations that defined the industry as well as leading-edge technology that drive so much more than tyres.   
From the race track to the lunar surface, Goodyear has pushed the boundaries of technology throughout its history – establishing an enduring legacy of excellence which has helped shape it into an illustrious tyre brand and one of the world's most respected companies.
Paving The Way
The entrepreneurial spirit that shaped Goodyear's beginnings paved the way for a wave of its early tyre inventiveness including the no-rim-cut tyre and all-weather tread – so much so that by 1920, Goodyear equipped almost half of all OEM tyres on American-made cars.    
Racing To Success
In a momentous turning point, Henry Ford's request for racing tyres from Goodyear ignited its path to motorsports success as a racing icon – so much so that by 1962, Goodyear racing tyres were used on more winning stock and sports cars than any other brand at the time.
Going Beyond Tyres
Goodyear's prolific breakthroughs not only produced the world's first tyres on the moon but contributed to the ground-breaking development of synthetic rubber – which eventually led to the application of a polymer developed by Goodyear in artificial heart technology.      
We Keep Your Wheels Turning
Goodyear tyres are available from Sunlun Distribution, a Malaysia tyre distributor based in Sibu, Sarawak, East Malaysia. We distribute and supply Goodyear tyres throughout central Sarawak including Sibu, Bintulu, Mukah, Sarikei and Kapit, southern Sarawak including Kuching, Sri Aman, Serian, Kota Samarahan, Saratok, Betong and Siburan and northern Sarawak including Miri, Lutong and Niah:
Goodyear passenger car radial (PCR) tyres
Goodyear SUV/4x4 tyres
Goodyear light truck (LT) /ultra-light truck (ULT) tyres
Goodyear commercial van/light truck tyres
Goodyear commercial truck bias tyres
Goodyear farm and grader tyres
Browse our Products or Contact us for more details on Goodyear products.
About Goodyear
Goodyear was founded in Akron, USA in 1898 and is today one of the world's largest tyre companies with annual sales of over USD15 billion. Through global manufacturing facilities in 23 countries and innovation centres in Ohio and Luxembourg, Goodyear develops advanced technology and performance standards to produce a wide range of tyres for consumers, commercial trucks, aviation, off-the-road and motorsport racing.
Links
https://corporate.goodyear.com/us/en/about/history/goodyear-celebrates-1...